Millenia Commercial Real Estate's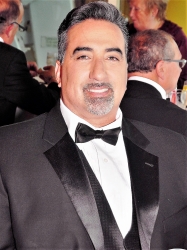 ERIC J RAMIREZ
RECEIVES COSTAR POWER BROKER AWARD ....AGAIN!!

An expert in the field of commercial property investments. Mr. Ramirez focuses on many aspects of the business, including client asset disposition, NNN investments, leasing, tenant/landlord representation, development assistance, corporate negotiations and specific requirements. He has successfully sold, leased, dis-positioned, re-positioned and provided development assistance for several owners/developers throughout Southern California. He has worked with several national and international companies such as The Rockefeller Group, LG Electronics, McDonald's, Subway, Wal-Mart, T-Mobile, Boost Mobile, UFC Gym, 7-Eleven, AutoZone, and Panda Express Restaurants.
Eric has won several awards: CoStar Power Broker Award, Top Sales Award, Top Leasing Awarrd several years in a row.
Before starting his career in commercial real estate Mr. Ramirez owned and operated a small chain of convenience store gas stations in Southern California.
Millenia Commercial
Welcome to Millenia Real Estate Services. Millenia Real Estate Services has been successfully serving clients for over 15 years. We have been able grow and succeed in real estate for over 20 years because we know how to adapt and change in order to provide our clients with the most updated information, technology and professional services in the industry. We will meet and exceed your expectations with persistence, perserverance and professionalism.
In today's competitive real estate market, timing is everything. Many great retail, office and industrial spaces get leased or bought very quickly. You have come to Millenia for all the right reasons and the right season. There is no time like the present to make an appointment with our friendly and professional consultants, who will guide you through these questionable real estate times. Info@MilleniaCommercial.com

If you own real estate that you're thinking of selling or leasing, we would be happy to provide you with a FREE Property Evaluation. Info@MilleniaCommercial.com

REMEMBER!! WE DO NOT "LIST AND RUN" like most large commercial brokerages who try and handle 100's of listings by only focusing on getting the listing and waiting for the phone to ring. When we take a listing we are determined to get RESULTS and we are not satisfied until the job is done and YOU are a happy client! We make hundreds of calls a day to prospective buyers and/or tenants.


Whether you are leasing , buying or selling property, hire a company who cares more about your investment than you do! We care more because our success depends on it!

*** We here at MILLENIA are RESULTS oriented. As a wise man once said "do not mistake efforts for results"***
If you are not getting the results you desire from your current representation, do not "extend and pretend"contact us today! Info@MilleniaCommercial.com

If you have any general questions about leasing, buying or selling real estate in the Inland Empire, please contact us as we'd be more than willing to assist. Info@MilleniaCommercial.com
Our Success
Our success formula is pretty simple; Relationships. We strive to cultivate working relationships with our clients in order to clearly understand our client's motivation. Not every developer is a property manager, not every buyer is looking to fill and sell, just like not every seller is looking to buy. We believe our client's goals should always be at the forefront of our plan to succeed. We believe the most satisfying road to success is to put other people's success ahead of our own.
We have a global database of investors and industry professionals throughout the United States, Middle East, Asia, Canada and Europe, which allows us to quickly market and execute deals. Sell, lease or purchase, we are strategically set up to efficiently achieve results for ALL of our clients.

Consulting:
As a full-service firm, we are available to meet with owners/lessors, tenants/lessees, investors, attorneys, lenders, architects, property managers and any other professionsls that our clients determine are necessary in evaluating your commercial property needs.
Corporate Services:
At Millenia Commercial Real Estate we can provide regional, national, and international companies with multi-location growth, disposition, and strategic consultative services.
Brokerage:
Our skilled sales team is experienced in every type of commercial property including Retail, Industrial, Multifamily (apartments), Office, Hotel and Developemnt Sites - working with local and national real estate professionals to maintain accurate analysis of current market conditions. Using these tools our team prepares and submits a comprehensive marketing package which targets appropriate buyers/tenants and assists with all aspects of the transaction once a buyer or tenant is found.

Leasing:
Our knowledgeable leasing team has a full understanding of the local market and quick and accurate access to information regarding market conditions. Prospective tenants are identified and provided professional leasing presentations.

Investment Sales:
We specialize in all commercial property types, including Office, Multifamily (apartments), Retail (strip malls, shopping centers), and Industrial (warehouse. manufacturing facilities). Our brokers are skilled in 1031 exchanges, dispositions, repositions, sales leasebacks, and cap rate reduction sales.
We look forward to working with you and achieving your goals!!
pa supplier portal ark radiation suit the gift aselin debison ark radiation suit chatgpt vpn prada glasses blue botted instagram followers who is prada cinnabon merchandise pantone indigo biz markie jeff goldblum get chatgpt instagram followers statistics prada mens trainers furla handbag outlet instagram 5000 followers prada buckle belt prada bracelet charms element design build remodel growing colors by bruce mcmillan chatgpt cheat sheet fake prada necklace soffit form موقع غوتشي ferragamo outlet online how much is gucci bag prada prada triangle loafers prada black notes bing chatgpt download dior outlet online chatgpt sql prada car iko nordic winthrop red apple williams chicken franchise prada cat collar chatgpt investment lyrics light up light up store gucci aaa catalina express discount bloomingdales prada sunglasses cass x prada chatgpt ethics chatgpt chan prada socks womens prada panty chatgpt mobile app 700 followers instagram prada shoes outlet prada gift cards burberry outlet jacket prada dog backpack white captain hats prada riding boots williams fried chicken prada neck tie guxci ugg discount outlets buy gucci prada portland prada cass ugg online sale stores who bought chatgpt prada pochette bag burberry mens outlet prada cloudbust boots prada waikiki coach outlrt prada lofer prada blackface who made prada instagram scrape followers kendall prada prada ocean reviews bra outlets prada bag 2022 prada pr 09zs גוצ י ugg outlet prices rosemont restaurants with outdoor seating prada taschen prada lug boots chatgpt چیست large prada backpack catalina island visitors guide escada outlet prada promenade bag chatgpt client white prada shades chatgpt investment prada glasses blue prada baguette prada outlet prices count instagram followers prada boston bag prada dog accessories chatgpt mba high end outlet prada cloud burst followers instagram app instagram glitch followers prada purse white driftshake shingles gucci solde prada design
All content is updated periodically and can change at any time. All content is taken from third party information research material and believed to be true, however we can in no way gaurantee all information.